Directions
Looking for things to do on Long Island? Plan a visit to The Gateway, one of Long Island's best theaters east of New York City. If you love entertainment, you'll love our Main Stage series of world-class, professional, musical theater productions featuring some of the most talented Broadway actors.  Our productions take place at The Gateway Playhouse in Bellport. But occasionally, we will produce a show at Patchogue Theatre for the Performing Arts. Please check your ticket carefully before leaving for the show.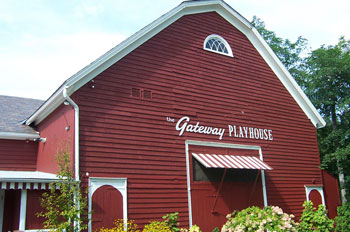 215 South Country Rd.
Bellport, NY 11713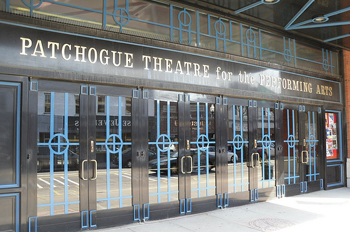 71 E. Main St.
Patchogue, NY 11772
Transportation
Travelling from New York City? Don't have transportation? The Long Island Railroad is a fantastic way to get around the Island and The Gateway is conveniently located 1.5 miles from the Bellport Station. However trains run much more frequently to/from the Patchogue station which is a 5 miles ride from The Gateway and .25 miles from Patchogue Theatre. 

 
Station Road and Montauk Highway
Bellport | (718) 217-5477
 
Routes S68, S7B
Bellport | (631) 852-5200
 
 
 
Port Jeff. Sta.| 1-888-618-9333
 
19 Bellport Lane
Mastic Beach | (631) 281-6500
 
 
 
Dining in Bellport
Once you've arrived at The Gateway, there are several options for dining, shopping, sightseeing, and more in Bellport Village. Whether you prefer Country Club dining, Italian food, or American fare, Bellport Village has plenty of choices for dinner and a show. Enjoy a Sunday brunch before a matinee or grab a hometown deli sandwich and have lunch under our picturesque tent on The Gateway's hedge-lined, historic property.
108 South Country Rd
Bellport | (631) 803-6416
 
159 South Country Rd
Bellport | (631) 286-7550
 
 
 
141 South Country Rd.
Bellport | (631) 803-8369
 
416 South Country Rd
Brookhaven | (631) 803-8593
 
 
 
19 Bellport Lane
Bellport | (631) 803-6067
 
 
 
 
 
 
Hotels
Plan a weekend getaway and lodge at one of the nearby hotels in the area. These hotels are centrally located near the most popular things to do on Long Island and offer several accommodations including free wifi, breakfast, fitness, and more.  
2 Sawgrass Drive
Bellport | (631) 924-0090
 
2695 Route 112
Medford | (631) 654-3000
 
 
 
2000 N Ocean Ave
Farmingville| (631) 732-7300
 
1730 N Ocean Ave
Holtsville| (631) 317-2353
 
 
 
Marina & Beaches
The Bellport Marina is in walking distance from The Gateway and is located in the same parking lot as the Bellport Yacht Club and a park with a playground and Bandshell.  Just across the Great South Bay is the Fire Island National Seashore which boasts some of the world's beast beaches and boating.
55 Bellport Lane
Bellport | (631) 286-0327
 
William Floyd Pkwy
Shirley| (631) 852-1313
 
 
 
80 Brightwood St.
Patchogue | (631) 597-9090
 
1 Corey Ave
Blue Point | (631) 451-6100